The Firehouse offers awesome casual and fine dining in the suburbs with great ambience and sense of occasion! This 1929 converted firehouse (in 2007) with a theme of red has been wonderfully restored and provides great atmosphere! Sam and I love it here for romantic interludes! Just coming to a chic hideaway that has a red theme and shared plates is a winner! In the winter a robust fire is also a romantic winner!
The Firehouse has been consistently highly rated in the Age Good Food Guide, and for those who live out in the eastern suburbs is a joy to experience fine dining without always having to travel into the city.
The Firehouse is also great for large groups and families… The staff are receptive of kids and we have been here several times feeling comfortable in a relaxed atmosphere. It's like a groovy haven in the middle of an industrial neighbourhood… Surrounding The Firehouse is a tattoo shop, close to motorbike shops and various retailers, and busy Maroondah Highway adjoins. Parking can be tricky (park at rear off Pratt St) but we often score just out the front.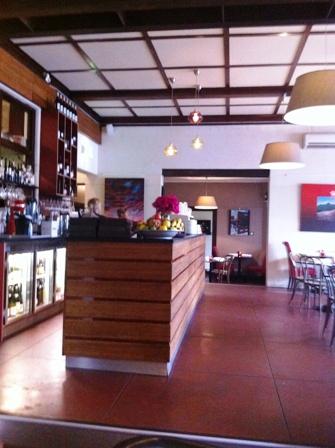 It pays to book – I've been turned away having taking a risk. This establishment must be doing well because it's only open from Wednesday to Sunday! I love the layout! The Firehouse has a main dining room, but also several smaller rooms which are great for intimacy. The flexibility is fantastic – you can come for great coffee and cake, brunch or a grand dinner.
We came here as a family, including my mother in law from Adelaide, for brunch and were hugely impressed! The Huenos Rancheros is one of the more interesting and tasty brunch meals I've had in Melbourne. It features 2 free range eggs, a rich tomato salsa, bacon, beans, coriander, guacamole, chilli, sour cream served with tortilla. The Spanish flavours burst in the mouth and was perfect for a brunch. My wife and I like to return here for special occasions…
We have been several times for dinner and never disappointed! On occasions we have chosen plenty of shared tapas as well as the mains. Love the flexibility! The 100 Day Grain Fed New England Black Angus Scotch Fillet 300g is also a sensation! Cooked perfectly and comes with fried onion rings, brocolini, baby zucchini, béarnaise sauce, and fresh horse radish cream… Mmmmmm! Noone was going to share that one with me!
Also some hit deserts such as the Fresh Baked Spanish Salt Chocolate Tart – exquisite! Had an after-wedding dinner there with plenty of interstate guests and everyone was raving!
Loved the private dining room which can be hired – such an ambience!
The Firehouse is a favourite of ours in the city of Melbourne, not just in the eastern suburbs.
The Firehouse, 253-257 Maroondah Highway Ringwood – Café/Restaurant - Food 9.5 Coffee 9 Ambience 9.5