The Cornershop is a popular cafe in Yarraville and is a standout for its ambience. The menu is fairly simple but has a range of options set to please a variety of tastes. Sitting out in the courtyard on a warm Melbourne day is sensational, that is if you can score a table.
A group of us met for lunch at The Cornershop on a balmy Sunday afternoon. At first we were told there might be a 15 minute wait for a table. Then told more likely to be 45 minutes. Just as we were told that - three tables left in front of us so we scored straight away.
The waitress promptly brought out the menus which reflect Middle Eastern and Mediterranean tastes. There are several kinds of exotic salads and several kinds of pides. The Meatballs took our fancy. It was explained they are "spiced" meatballs as distinct from "spicy" meatballs. This proved to be a tasty dish with a lovely sauce over the meatballs. With only four meatballs you might want to order something else as well...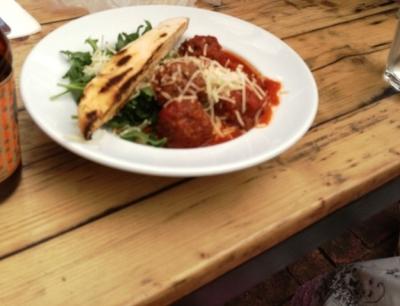 Several of us liked the look of the Porterhouse steak pide. To be honest we found this to be a bit pedestrian (all 3 of us were unimpressed). There was a thin piece of steak and not much else. The whole thing lacked taste. A bit disappointing. Especially compared to places like Tree of Us where for the same price you get a cracker gourmet steak burger with a decent piece of meat.
The handcut chips were golden and excellent with a wonderful aoli - but $8.50 for a small bowl was a bit rich. Looking at the photo above it is about $1 per chip....
The Cornershop has a cool ambience inside with large windows, funky lighting, big communal table and white brick walls.
Initially we were told by our waitress we could split the bill between our 2 families. Until we went to actually pay - when we were told no splitting of the bill on weekends. Which is fair enough. But I would have thought you should be able to split the bill between 2 families sitting at 2 tables. A bit harsh and caused about 10 minutes of us working it out and going across the road to the ATM.
On reflection it would have been great if we'd arrived before 1pm so we could order off the breakfast menu. We found the lunch menu not as exciting and the food quite average. The service was also a bit uninspiring. On the other hand its a great ambience at The Cornershop to enjoy a meal with friends.
Maybe we got them on a bad day so I might return during the breakfast period to check it out again...