The Aylesbury is a gastropub full of atmosphere and an oasis in the CBD with its fine rooftop and views and high calibre cuisine and bar area. The chic fit out combines the modern with old world charm. It's more than pleasant to sit at the chunky timber bar and imbibe the artwork, exposed brick, white walls and large windows...
Immediately I was greeted by the publican and engaging staff and shown to a bar stool. The Aylesbury boasts excellent menu options but we were here on a mission to experience the much talked about Rabbit burger.
I ordered the Rabbit burger and a bowl of Pork fat roasted potatoes and was glad to receive this bread and oil starter... 
It's funny how establishments have a comprehensive menu but can become known for something a little different and quirky, such as the Rabbit burger. This is a serious burger. It's not large like many burgers around town. But it doesn't need to be. The intensity of the rabbit is so rich. A huge rabbit burger would be overwhelming. The Aylesbury Rabbit burger is a triumph and a taste that lingered with me all day. This is something different in a sea of burgers...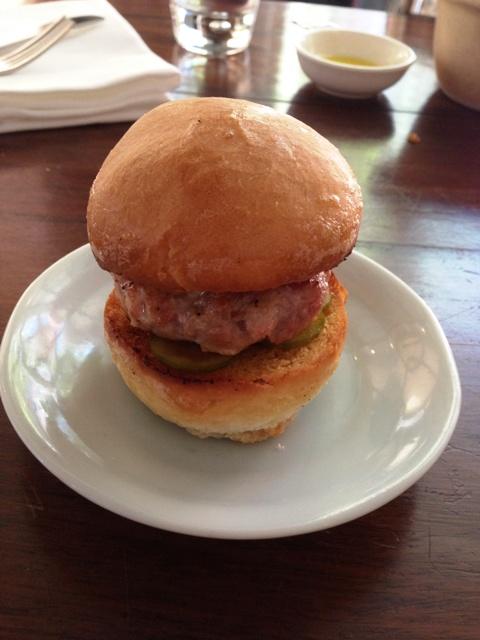 As an ex General Manager of an Australian Meat Export Company I have a penchant for game meats. We exported rabbit around the world back in the day. I loved slow cooking rabbit in a pot with loads of port. These days you have to hunt for rabbit and it doesn't seem to be as common.
I would never think to put rabbit in a burger. But it's an absolute winner. The intensity of the rabbit - a rich and slightly sweet meat - combined with the tang of the pickles. The bun was slightly brioche to keep the softness.
The Pork fat potatoes were the perfect accompaniment. Perfectly roasted and crispy with the indulgent taste of duck fat. 
The Aylesbury boasts fine mains such as the Duck, the Lamb Shoulder and the Pork Neck, and offers Feasting Menus for lunch and dinner. I was told the Prawn slider is also a popular dish on the rise...
The Aylesbury also has one of the foremost Rooftop experiences in the CBD with views up and down Lonsdale Street including the nearby church spire... Regular events and specials make the rooftop a highlight.
The Aylesbury is one of the finest pubs in Melbourne and the Rabbit burger is a chartopper.