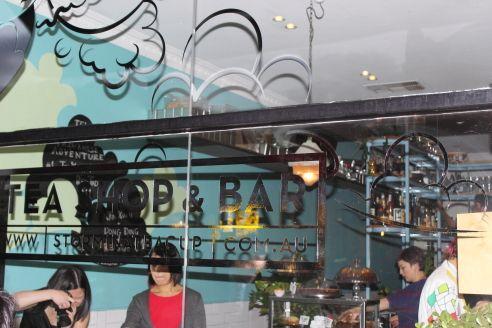 Storm in a Teacup is as refreshing as its premium teas and irresistable cocktails. For tea devotees Storm in a Teacup is taking the tea culture to another level. Speak with Hannah and she will infuse you with tea passion. Ask her about the antioxidant benefits of white tea v green tea and she will have you mesmorised with her knowledge and tea passion. And that's just scratching the surface.
Smith St is known as a hotbed of savvy and bold implementation of new ideas. Storm in a Teacup is something different in a coffee crazy city. It's like tea has long been the forgotten cousin. Surely when it comes to nuances tea joins the pack of wine, coffee, whisky and other delights. There are sublties in different tea blends and regions. Tea will take you to places you'd never imagine. Then combine teas with cocktail mixes as at Storm in a Teacup, and you have another layer of complexity.
Is there any other cafe in Melbourne that doesn't serve coffee? Brave and bold, Storm in a Teacup nails tea passion and lifts it to unchartered heights.
The World Loves Melbourne's Sam and Leeanne enjoyed one of the best blogger nights of the year with fellow imbibers at Storm in a Teacup. Check out this Jasmine Gin and Tonic cocktail above was super refreshing and featured ancient jasmine tea from plants over 400 years old... Smith St exotic!

Storm in a Teacup is brimming with knowledge and passion for tea. We were treated by Hannah to an intimate tea appreciation session mulling over the differences between white tea (barely processed) and green tea, as well as oolong and black tea.
Here's some background on tea -
'All tea is made from one plant, the Camelia Sinensis. It has two main varietals: Sinensis originating in China and Sinensis Assamica from the Assam region in North India. Shiny, green leaves are harvested from the plant regularly to encourage new growth: the top two leaves (plus the bud, or tip) make the finest grade while the vibrant flavours of the first growth (or flush) of the season are especially prized. The short, intense growing season of high altitudes improves flavour even further, adding an ethereal element, hence the sublime taste of first flush Darjeeling and seasonal teas from the high slopes of Yunnan province in China.'
We learned that tea is fragile and its best to apply hot water at below boiling point to bring out the flavours, at around 80 degrees. Also worth noting is that the infusion process only takes a couple of minutes for green tea, and slighly longer for other teas. The Green tea was direct from the farm and full of flavour.
Storm in a Teacup express their passion for tea on their website -
'The steeped tradition of tea is making way for an artisan couture tea scene, a world of tea both young and old.
Respecting the rituals of tea, the ceremony, the history and the story, Storm in a Teacup has created a concept that embraces the precocious elevation of tea's place in our culinary society.
Storm in a Teacup is spearheading the tea revolution in Australia. Borne of a love of tea, a respect for the worldwide communities that grow and produce tea and recognition of our changing appreciation of the venerable cuppa, our vision is to celebrate the most popular drink in the world.'
Storm in a Teacup have a range of teas for purchase... Artisan teas from China, Japan, Korea, Vietnam, Hawaii, Australia, South Africa, Kenya, India and Sri Lanka are all represented in their range.
We were able to enjoy tapas style food matched with the teas and cocktails...
And more cocktails like this The Storm with green tea and Chatreuse...
Or imbibe the Russian Caravan with an ice ball of mixed tea. So exotic!
The platter was impressive with quality tasty meats and cheeses and the like - and interesting in matching with the exotic teas and cocktails...
And of course a rich dessert to match...
Storm in a Teacup also issues an Ethical Promise -
'Storm in a Teacup sources teas wherever possible direct from producers, be they in Kenya or Hawaii. Our teas are ethically grown, ensuring the community that relies on the tea harvest is respected and appropriately paid for its work. We also source organically produced tea, not only for the benefit of our customers and the greater environment, but also for the health of the workers in the fields where the tea is produced. On the carbon footprint front our startup phase has had an impact as we have utilized airfreight to get our little tea orders here for the opening, we will be phasing this out and in 3 years will be carbon neutral.'
Vive la Revolution!