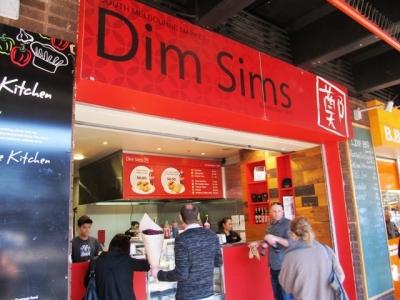 The humble dim sim has been celebrated at the South Melbourne Markets for over 50 years. To cap a real experience at the markets one must visit South Melbourne Market Dim Sims. As they proudly pointed out to me, since 1949.
For a start the South Melbourne market is an impressive market and aruably the best of Melbourne's markets. The fresh produce is high quality and there is an abundance of gourmet options and choice. Plus the location is great and the surrounds boast some awesome cafes and precincts.
Just don't get caught with a parking ticket as I did, having too much of a good time for too long and forgetting that parking restrictions apply even on Saturday mornings.
As part of your visit to South Melbourne Markets one must visit the South Melbourne Market Dim Sims. These guys are the original and the best. Choose between the deep fried dim sim or the steamed dim sim. Both are awesome.
These dim sims are rated highly for the quality of filling, the casing but also the sheer size of these delights. It's filling just to eat one (of course I usually eat a couple). The value is also excellent.
What is great is South Melbourne Market Dim Sims are sold all over Melbourne including my beloved Westfield Doncaster.
Rock on South Melbourne Market Dim Sims.