Rhone Wine and Tapas in Albert Park exudes elegance, charm and great cuisine with an emphasis on Mediterranean fare. This restaurant stands out with authenticity, passion and quality in a city that loves all things European. Rhone has a new Chef in March 2013.
Both times I've visited Rhone I've been highly impressed. For my second visit I rolled up to one of Rhone's Flamenco nights which features a Spanish guitarist and specials on Spanish beer and sangria. The guitarist was on fire and several diners clapped after each song. Were we in Spain?
Rhone filled up and was packed just after 8pm. The place was pumping.
The restaurant takes its name from the Rhone river that flows into the Mediterranean There's a flow here of great service, attention to detail and spectacular cooking. There's an almost romantic ambience with elegant chairs and couches, art on walls, soft lighting and rustic colour themes.
The owner Leigh is a passionate foodie who, while young, has spent many years in Europe developing a massive understanding of European dining and wines. He has a penchant for fine European cuisine but a noticeable passion for service and customer satisfaction. As the c0-owner he might want to watch from the sidelines but he enjoys nights in the restaurant connecting with customers including a great local following.
The Garlic and chilli prawns with crusty bread were a simple tapas but cooked to perfection.
The Lamb cutlets were also moorish and came with a killer sauce with a tang.
The wine list is impressive in keeping to the Mediterranean theme – whether Australian or European wines. Of late there's been the addition of more French wines, given the trend of Melbournians to desire French wine.
The Rhone Arroz Con Leche – house made sweet vanilla rice pudding - is a great winter warmer. The Crema Catalana is a stunning Crème Brule dish that is just so moorish.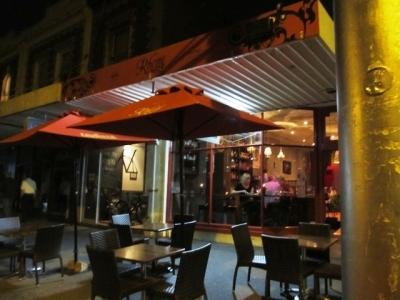 Rhone is in an attractive pocket of Albert Park and is recommended.
Rhone runs a series of highly successful theme nights.
Check out their website at http://www.rhonewinetapas.com.au/
Rhone Wine and Tapas 125 Victoria Avenue Albert Park - Food 9.5 Ambience 9