Non Solo Pasta is a popular chic Italian cafe and restaurant in Docklands and has won the Age Good Food Under $30 award for best pizza. Traditional Italian style pizza at its best. Non Solo Pasta has one of the most compelling vibes in Docklands and is a great place to dine and meet up with people. Come here for Friday lunch and you may have to wait for a table.
Non Solo Pasta has that Italian air about it and the fit out is modern and spacious. The sunlight streams through the large windows and you can sit back and enjoy a wide ranging menu to suit all tastes.
The hero here is the pizza, with Italian styles such as Gamberi, Rustica, Carbonara and of course Margherita. It's no surprise the pizza is great here given their other pizzeria +39 in Little Bourke St - a favourite of mine. Pizzas made in the Italian tradition with excellent slightly chewy dough, quality ingredients and sauce, but not overcrowded with too much ingredients. It is the Bunga Bunga pizza that caught the eye of The Age Good Food Under $30 with its thin base and winning toppings of berkshire pork sausage, fior de latte, porcini mushrooms, parmesan and parsley.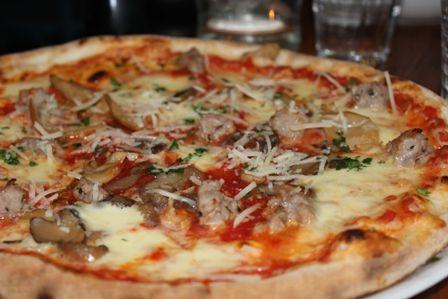 I found this to be one of the best pizzas in Melbourne with the philosophy of "less is more." Quality ingredients with perfect crispy base in the Italian style.
Or check out the Pasta dishes and exotic salads. Thr Gnocchetti Burata features Giorgio's Burrata (mozzarella & cream), cherry tomato & basil in a slow cooked Napoli sauce. Beautiful presentation and delish.
Desserts are allluring including the Sweet Nutella Pizza.
I've found Non Solo Pasta a superb destination for breakfast and lunch during my work tenure in Docklands. Choose from the many tasty treats in the cabinet. I'm a big fan of Piadina's and Panino's. A Pancetto Panina is the perfect start to the day with free range egg and pancetta. And the breads here are excellent, unlike a few other cafes in the precinct.
Coffee is important in an office precinct and Non Solo Pasta delivers on strong Italian coffee. The testimony to their coffee is that despite the plethora of coffee houses in Docklands, there is a steady line up for coffee at Non Solo Pasta every morning.
The fit out includes a large board with menu items, a large message of "pizza is sexy" (so true), high ceilings and funky lighting, Italian products on display shelves, attractive large cabinets with treats, retro white wall tiles, plants in pots mounted on the wall, and a trendy concrete floor. Not to mention a cool dining area outdoors.
Service is excellent and there are Italian staff who are knowledgeable and engaging characters.
I'm enthusiastic about Non Solo Pasta and having visited most of the restaurants and cafes in the Docklands precinct this one was a keeper.