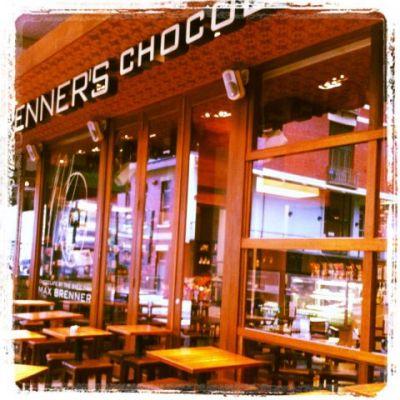 Max Brenner is a popular group of cafes that are so for the chocoholic! Indulgence at every turn! A menu that doesn't stray far from chocolate!
Max Brenner say they are about establishing a new holistic chocolate culture. They tap into emotions and tastes. They basically take chocolate very seriously! And we all know chocolate is a very serious business! Many of my friends love coming here for the vibe as well as the indulgent chocolate fix.
Considering I look a bit like Max Brenner with my bald head I feel a connection. I even took some of their serviettes which feature bald Max Brenner as a kind of self portrait.
This place is indulgent city! Love the hot chocolates here (as well as the coffee)! I love the "hug mugs" as a part of their chocolate culture. Lots of warm fuzzies! Also love the Belgian waffles drizzled with pure melted chocolate! And my favourite is the Chocolate Fondue for 2 with chocolate of course – plus strawberries, bananas, marshmallows and banana bread. Basically the major food groups right there! Oo la la!
The artistic truffles are also great. Chocolate comes both small and large!
I remember attending a conference where we met at Max Brenner nearly every night. It's a place that lends itself to laughter, good times and fun! I think there's an underlying humour about it all! More recently I had a finance meeting there – looking through the books under the watchful eye of Max Brenner. Love it!
Max Brenner300 La Trobe Street CBD – Chocolate – Food 9 Ambience 9