Lamaro's is a delightful gastropub in South Melbourne that prides itself on its fine cuisine and engaging service. I was privileged to dine as a guest of Lamaro's in their Conservatory private room, which impressed with its artwork, skylight and ambience. What I love is a gastropub with passion and one that endears itself to the locals. At this media launch there was a point of inviting several locals who grace this pub as well as wider media.
What I also love is an atmosphere of class and style - whether it be imbibing in the more formal dining area or at the casual bar.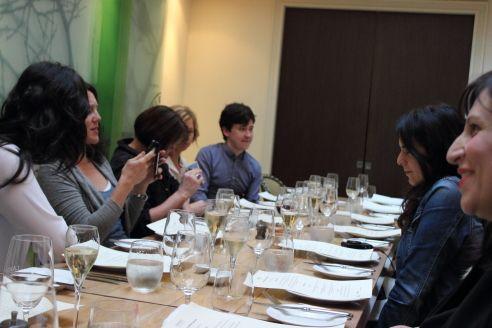 Lamaro's was keen to show off its Spring menu from chef Shaun Sheridan to an eager media audience. The Shared Entrees presented on a wooden board hit the mark with BBQ Quail (juicy and not overcooked) with black garlic, charred radicchio and dried corn a highlight. I sometimes find quail a bit boring, especially when its crispy quail always done the same way. But this was a refreshing and engaging dish with a killer sauce and perfect accompaniments.
Another highlight was the Truffle seasoned venison carpaccio, egg yolk crums, sauce gribiche and garlic croutes. Check out the colurful and compelling presentation in the photo above (middle of the board). The crunchy garlic croutons were a perfect match for the carpaccio.
Sesame crusted yellow fin tuna, avocadoand white miso glaze was another hit and we were subtely fighting for this as a shared dish at our part of the table.
Freshly shucked Tasmanian oysters, spanner crab and nashi pear salad, with tamarind dressing was also refreshing and the perfect starter.
The wine list has depth and we were grateful for this Italian style red.
This inventive dish of Prawn stuffed king george whiting, pickled carrot and daikon, bonito mayo and fresh horseradish caught the eye. What a creative way to present king george whiting!
The most popular selection was a gastropub favourite of Lemon and parmesan crumbed veal schnitzel , hot mustard coleslaw and diable sauce. The schnitzel at Lamaro's has attracted wide acclaim. The hot mustard coleslaw has punch and was a welcome accompaniment. Lamaro's are fast approaching serving 100,000 of these schnitzels! Iconic.
My choice was the 250g King Valley Grain Fed Eye Fillet, root vegetable lyonnaise, petit tatsoi salad and red wine jus. And I'm glad I did! King Valley Eye Fillet for goodness sake! Perfectly cooked with a wonderfull glaze and stunning flavour. The vegetable lyonnaise contained sweet potato and was well put together.
Noisettes on the side...
Zesty salad...
Lamaro's is an impressive venue for business functions, drinks and lunches and dinners. A great gastropub in South Melbourne.