Huxtaburger is a contender for Melbourne's best burger. Just across the road from the epic Huxtable restaurant on Smith Street is this popular burger joint that delivers big time on quality gourmet burgers, great crinkle cut chips and beer. A killer combination. The value here is incredible and might just get you through the latest Global Financial Crisis.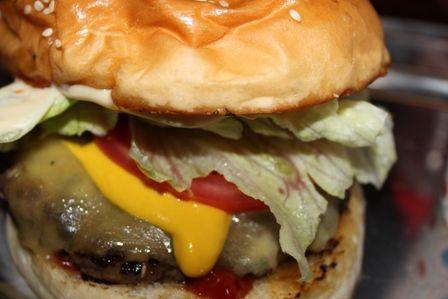 News that Huxtaburger will open in the CBD in early 2013 in Fulham Place in between 333 and 357 Collins Street is music to the ears of city workers.
To understand Huxtaburger you need to understand where it is coming from. To present such a quality burger as "The Huxtaburger" for only $8 is incredible. Who else can do this? No-one else I know of in Melbourne. Some burger joints serve old school burgers for around the same price but this is gourmet all the way.
They are bringing value and accessability with quality.
Huxtaburger is usually packed with a line up out the door and people waiting to swoop on a table. You can eat at the counter or grab one of the tables and enjoy the ambience of Smith street.
With a black and white colour scheme you would think we are in Collingwood. But you also might think we are in an American diner in Collingwood.
Huxtaburger has done its homework on what makes a great burger. They simply have great buns. Glazed brioche buns. The burger bun melts in the mouth. You don't get that heavy starchy hit of bread but rather the bun combines wonderfully with the rest of the burger.
The strength of Huxtaburger is that they keep it quality and simple. Other burger joints add varieties of burger that just don't work. Everything at Huxtaburger works.
My favourite is "The Huxtaburger" which has those awesome buns, crunch of great lettuce, quality gherkin, sublime patty of Moondarra Wagyu beef and melted cheese, tomato, mayo and ketchup. For a little extra you can get some great crinkle cut chips.
Like everything Daniel Wilson does, there is adventure, amazing gourmet flavours yet sublime balance. There is kick in the mayo and pickles but it doesn't dominate the quality beef. The sensation is of a delectable light and slightly sweet burger. A contender for Melbourne's best burger.
At huxtaburger there is also a tie in with the Cosby show. The burger called "Bills" contains bacon, egg, pineapple and beetroot for only $10.
The "Theo" with the double pattie and double cheese caters for those that love a huge mother of a burger.
Then there's the "Denise" which has some kick with Jalapeno.
There are burgers for kids for only $5.
You can always tailor make your burger by adding stuff - like an extra pattie for $2.
Service is great here - in the three times I've been the staff have been engaging and friendly and professional. Table service at a burger joint is sensational.
Huxtaburger hums at night open 11.30am till late on Tuesday to Sunday.
Huxtaburger is a great place to dine with friends for amazing quality and value.