Iconic Hellas Cakes is celebrating 50 years of serving Melbourne with its sensational cakes and sweets. This is another treasure of Melbourne, with traditions and values of yesteryear brought into the modern context. If ever a place oozed charm it's here. A recent renovation has opened up the most wonderful space that is simple, attractive and unpretentious.
In 1962 a post-war Greek immigrant Hraklis Kenos opened up a cake shop at the Swan Streets end of Lennox Street. Hraklis was a practising pastry chef who wanted to treat the Greek community to fine cakes and pastries. The business was sold to the Laliotis and Kantaris families and third generation pastry chefs are being groomed in the business today.
Loads of fresh quality Greek cakes are for sale at value prices. When I asked the staff about the great prices they told me some of the older Greek women would revolt if the prices went up too high.
Check out these beauties...
Hellas Cakes has kept some of the furniture pieces from the 1960s in its rennovation. Even the original carousels housing the cakes have been restored. This is alongside modern aspects such as the coffee machine, stools and funky lighting.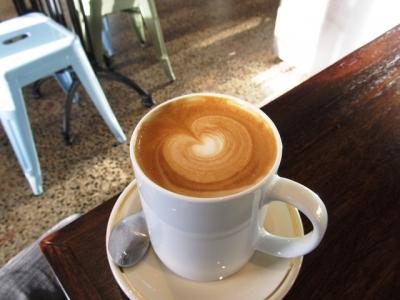 Hellas Cakes pours a great coffee, as you can see above, using Coffee Supreme...
The breakfast options are simple but sublime. Check out this fab breakfast above with the most amazing home made hash brown.... 
I couldn't help indulging in some classic Semolina Cake and Bakalava, which Hellas Cakes is famous for...
On warm days they open up the frontage... You can also sit outside and enjoy the ambience of Richmond...
Hellas Cakes is a wonderful local business that continues to thrive. You can even see through to the large kitchen and the family at work. The business has developed to being both a retail and wholesale supplier, and a fabulous cafe. Well done Hellas Cakes on 50 golden years. I highly recommend a visit to this charming enterprise.