Ferdydurke is one of the coolest bars in the Melbourne CBD and you often see queues as it grows in popularity. As a bar and restaurant is boasts such amazing little areas full of vibe and hidden from the teeming metropolis below.
Ferdydurke is a fun haven named after a Polish surrealist writer from the 1930s (I'm sure you knew that) and has the most incredible views from its upper level. Come here with a group and enjoy the little room overlooking Tattersalls Lane. Look down also on Section 8 who are the sister bar/restaurant.
The sign out the front as you enter is a classic. Then walk up a stairway with faces painted on the walls.
Check out the glass stairs. Too cool. And the timber furniture and fireplace.
The bar area is also full of vibe with staff engaging and friendly. They will even take your meal to Section 8 if you order from there.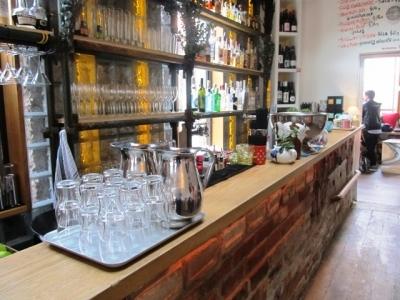 Ferdydurke are known for their high grade cocktails. Meals have a Vietnamese influence and the cuisine is fresh and great value. I loaded up on their pork rolls and spicy prawn crackers. Or try the Rice paper rolls.
The 99c Pho deals on Mondays is crazy good value. It's cheap the rest of the time anyway.
Ferdydurke is a great find and may surprise you.