"I'm late, I'm late, for a very important date!" said the White Rabbit. De Mad Hatter is a ever popular cafe in Docklands precinct that pleases with its cafe style cuisine, excellent coffee and cheery service. The fit out is modern and relaxed with large windows onto Collins St and a spacious feel. A concrete floor, Rabbit's timepiece large clock face, low ceilings and large communal table greet patrons. Not to mention the obligatory exposed brick at the counter.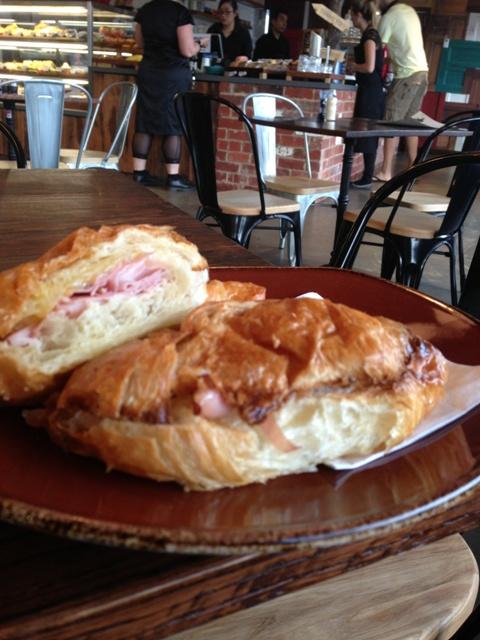 Amusing is the Alice in Wonderland theme. As a corporate entering the cafe its unusual to see items on a menu such as Alice's Brunch and the Wonderland Big Breakfast. Then again many corporates can identify with a fantasy world where things aren't quite as they seem...
Maybe this cafe speaks of corporate restructures... "Off with their heads!" said the Queen of Hearts.
De Mad Hatter hums at breakfast with tasty treats from the large cabinets. Smart cafes offer breakfast and lunch deals and the combination of coffee and a croissant or breakfast muffin is attractive.
Lunch may include a parma or a risotto. Or indeed a foccacia or baguette. In a competitive environment this place gets packed at lunchtime, so people are voting with their feet.
For me I enjoy the atmosphere and the coffee. I've found the staff to be particularly engaging and cheery in the mornings. There's quite a few staff at peak times. And the coffee is one of the best in Docklands.
Once again it's amusing for a sophisticated corporate like myself (ha ha) to be handed a "heart" with my table number when I order. Is that something to do with Queen of Hearts? Need to brush up on my Alice in Wonderland.
Check out the quirky upstairs section as well as downstairs. Interesting coloured panelling and upside down signs. Spotted the odd office get together here and corporate teams pumping each other up in the mornings.
Because it was close to my office I could afford to visit just before work... In fact I better be going...
"No time to say hello,goodbye! I'm late, I'm late, I'm late!"