What a great find this is! Bali Bagus provides great Indonesian cooking, friendly service and a modern and relaxed atmosphere. Having been to Indonesia a few times, I've always loved authentic Indonesian cooking.
Over in Indonesia I went to a restaurant where you order then they send out runners to source the food from around the town. Worked a treat. Although nothing like that here. One could see the presence of a couple of amazing chefs in the kitchen.
I love the treated concete floor, artwork on the walls, and the red rendered wall with more artwork. Also love the water feature!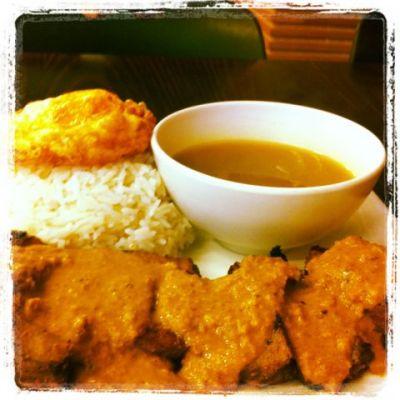 I ordered the Iga Konro Bakar which consisted of ribs with peanut sauce and a pile of rice. I then ordered the egg in addition for an extra $1.20.
This dish was fantastic, full of flavour, meat tender (and some fat left on it thankfully) and the peanut sauce was quality. The meal also came with a bowl of thin beef soup, which I also appreciated.
I love the relaxed and friendly ambience of Bali Bagus. It's a great place for office workers to unwind – again thanks for the water feature.

Bali Bagus provides excellent Indonesian food at value prices.
Bali Bagus, 85 Franklin St, CBD – Indonesian - Food 9 Ambience 9